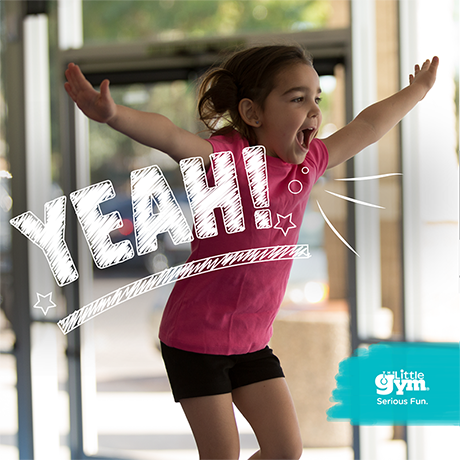 Your child is going to get quite a big shock when they go to school. Far from being tired, when they start school they will suddenly stop moving for most of the day, and be asked to sit quietly for long stretches.

Here's the problem… four-year olds aren't designed to sit quietly. They are still in the developmental stage where their brain is telling them to move, to explore, to experience as much of the world around them as humanly possible. And that is because our little ones learn through moving.
If you want your child to be a better sitter, a better listener, and better at concentrating, you need to get them moving. It's the way to truly good listeners.

And here's why…

Our vestibular system – our sixth sense – is responsible for helping us to sit still and listen, be alert, and concentrate. And it works in partnership with our seventh sense, proprioception. Now, if your child has a poorly developed vestibular sense and a challenged proprioceptive sense then they're going to find school hard! They'll be the child that fidgets, that can't stop moving, that can't focus, can't be still, and doesn't hear what the teacher is saying. And the child that gets in trouble for all of those things. And no parent wants that for their child.

But when does all that critical development of the vestibular system and proprioception happen? Right now, just when they're being told to go to school, sit still, and listen. At exactly the stage in their life when they need to get moving! All of that development happens BEFORE the age of SIX!

And guess what, they're both developed solely through movement. If the vestibular and proprioceptive senses are developed through movement, and all that critical development happens before the age of 6 years, then how on earth can our little ones get what they need from Pre-School and Reception alone?

The Simple Answer -- They Need Movement After School!
Your school-age child needs to get moving for 3 hours a day and even with the best of intentions our education system just can't provide them with that opportunity. Only modern, savvy parents that are passionate about their children's development can.

And not just any movement will do. To optimise their development, children need to take physical risks, regularly try a variety of new physical challenges for the first time, stretch their bodies in new directions, reach new heights, and problem solve.
And according to Gill Jane, Deputy Director of Early Years at OFSTED, there is a tension between physical activity and taking risks, and as a parent, balancing risk is a hard thing to do. OFSTED would like early years practitioners to challenge children and take such risks in order to make them more physically active.

Helping Your Children to Learn Through Movement and Safe Risks
Don't stop your children's activities when they go to school. They won't be too tired. They'll need the outlet. And they need to keep moving. Penning them into a room for most of the day, stopping them from moving, and then removing the activities they love doesn't do our beautiful children justice.

And just like us, they need to de-stress after a long day at school! Just like we need to de-stress after a long day at work. Why do you think adult gyms do such a roaring trade in the evening! School has the same effect on our children, let's help them get that stress out of their system and sleep better at night.
We just started our new semester and there are still a few spaces left in our classes!
Click here to check you our schedule or call us on 01223 324 554 to secure your space before it's gone!